The City of Carson Cultural Arts Commission
present
a special public viewing
of my new works from
Capturing the Soul of America's Diverse City
"
created in collaboration with The City of Carson
through a grant from The City of Carson Cultural Arts Commission
"Ricky of Carson" oil on linen, 31" x 25"

join me in presentation of my project
of adopting the power of ART
into a tool of social action
following in the footsteps of my father
I am bringing the kind of ART I believe in
directly to the people
in the community that overcomes adversity
21411 Orrick Ave, Carson, 90745
come to meet my remarkable neighbors and learn their story
"Mrs. O'Neal" sepia on Fabriano paper 30" x 22"
The first result of this collaboration features Carson residents:
Mary Anne O'Neal, Lincoln Kaio
and Ricky Echevarria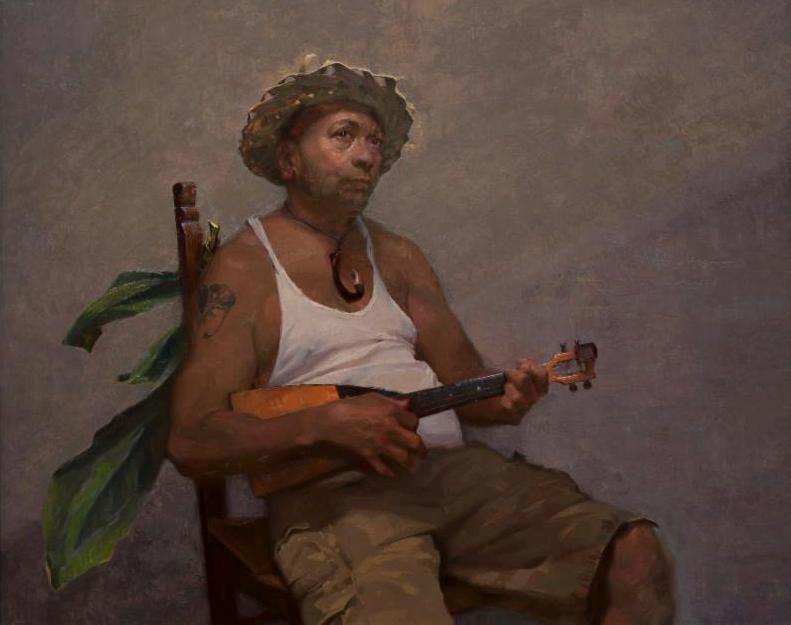 "Ukulele Player" oil on canvas 48" x 60"
For me the answer to many difficult questions of modern world is in the simple principle
"Love My Neighbor"
. I make my case with ongoing "My Neighbor Series" a collection of portrayals of my neighbors in the City of Carson, the 5th most diverse in the nation.
I was honored to be awarded a Cultural Arts grant for 2015/16 to continue working on "My Neighbor Series".

Every street and every neighborhood has its own widely loved neighbors. I want to capture that unique and iconic deeply human quality that makes those special people the true bedrock of the community, something real and solid to hold on to in the much troubled contemporary world. I want to capture people you cannot help but love and I want other people to see them and be inspired by them as much as I am.

At the kind of times that we live in I want ART to help people fill what I call The Dignity Gap.
We look forward to seeing you.